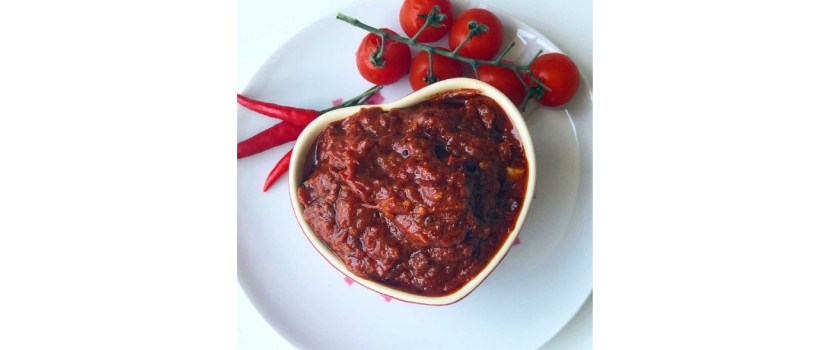 Tomatoes have a substance called lycopene in great amount. This gives them the bright red colour and helps protect them from the harmful ultraviolet rays of the sun. In the same way, it can protect your cells from damage. In Tomatoes you will get nutrients like Vitamins B and E, potassium and other such nutrients that are necessary for our body. The Silbatta Made tomato chutney manufacturers provide you with the best products at an affordable price.
The tomato chutney has amazing health benefits which we will learn below.
Immune System
The substance called Lycopene that is found in Tomatoes to a great extent is an antioxidant. This helps to fight molecules called free radicals which can damage your cells and also affect the overall immune system. This is because food that has a high level of lycopene such as tomatoes used in chutney are less likely to have lung, prostate or stomach cancer. Some research also shows that they might help you prevent the disease in the colon, pancreas, mouth, throat, cervix and breast as well.
Heart
Lycopene helps you reduce the levels of LDL or bad cholesterol as well as blood pressure. This will help in reducing the chances of having heart diseases. In tomatoes, other nutrients like Vitamin E and B and antioxidants called flavonoids helps boost your heart health as well.
Eyes
Red tomato chutney supplier in Gurgaon provides you with chutney that is made with good quality tomatoes that have substances called Zeaxanthin and Lutein. These substances help in protecting your eyes from the blue light that is made by a digital device like computers and smartphones. These also help your eyes to feel less tired and eases headaches from the eye strain. According to some research, it has been found that these are less likely to have a more serious form of leading cause blindness.
Lungs
According to some studies, tomatoes used in chutney helps people who have asthma and also prevents emphysema which is a condition in which air sacs are damaged in the lungs slowly. These also have antioxidants like lutein, lycopene and Zeaxanthin which helps in fighting the harmful substances in tobacco smoke which leads to Emphysema at one point.
Blood Vessels
You must have more tomatoes in your diet. This is possible if you start having chutney made with tomatoes as a part of your everyday meal. This helps prevent stroke which happens when blood flow is cut off from the part of your brain. According to studies, tomatoes can also ease inflammation, boost your immune system and reduce your cholesterol level by keeping your blood from clotting. All these things will help prevent strokes.
Oral Health
Some studies show that lycopene helps with gum diseases called periodontitis and gingivitis in the same way it helps in preventing cancer by fighting free radicals. After you have tomatoes or anything that is made using tomatoes makes sure that you wait at least 30 minutes before you brush your teeth.
Skin
We all are aware of the fact that sunscreen and hats act as a shield from the sun. Well, the lycopene in tomatoes will do something for that. It protects the tomatoes in the same way. It is not a substitute for the sunscreen that you use and you do not have to put it on your skin but it helps you by working in your cells inside.
Why Should You Have Tomato Chutney In Particular?
Tomato chutney is not the only thing that you should be having, you can try anything that has tomatoes as the main ingredient to ensure that you get all the nutrients. Tomato chutney on the other hand is easy to add to your meals. You can have it as a side dish or use it as a dressing for your salad. Nutrients like Lycopene will be easier for your body to take in and use from tomato chutney than other products.
Therefore choose to deal with the best Silbatta made tomato chutney manufacturer and get products from them for your use.